Welcome to Johnson Chiropractic Clinic!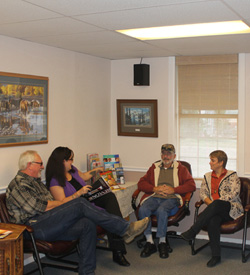 Your first visit with us will take approximately 60-90 minutes. You can find the necessary paperwork for you appointment on our website and bring it in with you.
Dr. Laura has a reputation in the community as being very thorough, so she'll take the time to:
Review your health history
Discuss your concerns and goals
Perform a complete chiropractic evaluation, including X-rays (if necessary)
Perform a bio-mechanical analysis
Review the results of her testing with you
Most likely, you will also be adjusted on this visit, particularly if you're in pain.
Dr. Laura advises that you wear comfy, loose clothing on this first visit to maximize your comfort while being evaluated and adjusted.
Your Second Visit
During this next visit, you'll receive your second adjustment, which will take approximately ten minutes.
Depending on the level of pain that you're in, Dr. Laura may also use soothing heat or ice, stretching, cold laser or a modality such as electrical muscle stimulation to help you heal faster.
At the conclusion of this second visit, Dr. Laura will advise you as to the scheduling of any future treatments.
Call today so we can answer any questions you may have about how chiropractic can improve your life! (208) 324-3730